Why A Chef's Kitchen Is Perfect For Entertaining and the Holidays
---
Once upon a time, kitchens were merely a place to cook a holiday meal before scurrying out to the formal living or dining room to entertain family and guests. Nowadays, kitchens have become an all-encompassing room in the house that family and friends flock to, especially during the busiest time of the year—Christmas and the Holiday Season.
Not all kitchens have the same capabilities. Some are smaller and are a perfect cozy setting for smaller groups, while some are larger and can accommodate more hoopla. But out of all the kitchens out there there's nothing quite like the Chef's Kitchen, which blends functionality with fun.
What Is A Chef's Kitchen?
In its truest form, a Chef's Kitchen is quite literally built to accommodate a chef that will be busy making dish after dish. Formally, these are the main specs that go with a Chef's Kitchen:
Plenty of open counter space for cooking and meal preparations. The reason for this is to accommodate multiple cooks in the kitchen, giving everyone ample space for themselves
Well designed cabinets, drawers and storage solutions for all kitchen accessories to call home
High-quality kitchen appliances such as a double-door wide refrigerator and freezer to keep foods well preserved at the right temperature
Deep kitchen sinks—usually two deep ones, and a water faucet above the stovetop to fill pots with water
Speaking of stoves… the stovetops in a Chef's Kitchen are usually gas stoves to allow for faster boiling and frying times
Two or more ovens for multiple things to be cooking at the same time. These ovens usually have a warming drawer to keep dishes at eating temperature. Ovens in a Chef's Kitchen also come with convection elements for fast heating.
Multiple dishwashers or a large main dishwasher to help clear out the mess from cooking.
Now, in reality, not every Chef's Kitchen in an average Canadian home will have multiples of the same appliance or design features. That's more for the professional workplace setting.
But the perk to a well-designed Chef's Kitchen in the home is being able to cook with comfort and convenience. That's why Holiday entertainers and those who find themselves constantly cooking up and indulging in the latest recipes will love designing their own Chef's Kitchen with Canadian Home and Renovation Team.
What Makes a Chef's Kitchen The Perfect Gathering Spot? 
Not only is it perfect for serving scrumptious snacks and entrees, but it's also a great place to mingle once the cooking is done, or to get multiple chefs helping out with Christmas and Holiday meals. Because of the copious space and clever designs, Chef's Kitchens become the heart of activity and combine the fun of cooking and socializing into one room. No longer do you have to pop in and out of entertaining your guests.
So if you're thinking to yourself, "How does one re-create a chef's kitchen in a home?", here's what Canadian Home and Renovation Team can tell you from experience!
What Are Specific Features of a Chef's Kitchen in a Home? 
One important design aspect of the Chef's kitchen is choosing countertops and surfaces that are easy to clean and practical. When you work with CHART designers on your Chef's Kitchen Renovation, you'll get to choose surfaces that are easy to clean and cooking areas that are practical. Here's what else CHART clients have chosen in the past for their at-home chef's kitchen:
Large Kitchen Islands With Seating
Photo by Canadian Home & Renovation Team Inc. - Browse kitchen ideas
What's great about large Kitchen Islands is that we can also design some sneaky storage solutions within the base, and we can also wire in electric outlets. So if you're doing some holiday baking or are catching some drinks with friends, a large kitchen island is the perfect space
Quartz Countertops from Cambria Quartz.
Photo by Canadian Home & Renovation Team Inc. - Look for kitchen pictures
At CHART, we're supplied by Cambria Quartz, a family-operated company that has been making quartz a kitchen must-have since the early 1900s. Cambria Quartz is specially designed for kitchen renovations because it is durable and easy to maintain
Kitchen Cupboards Designed to Meet Organizational Needs
Photo by Canadian Home & Renovation Team Inc. - More kitchen photos
Sometimes that means choosing cabinets with doors, but other times, it means open shelving so plates, cups, and cookware are easily accessible.
Deep Under Mount Sinks with Single Handle Faucets and a Pull Out Sprayer.
Photo by Canadian Home & Renovation Team Inc. - Look for kitchen design inspiration
Deeper sinks allow for easier cleanup after cooking, especially with larger pots and pans. A removable spray head for the sink is also a convenient feature because it helps with rinsing and getting harder-to clean spots on cookware.
Stainless Steel Appliances
Photo by Canadian Home & Renovation Team Inc. - Browse kitchen ideas
Nothing says Chef's Kitchen quite like Stainless Steel because of their sleek appearance and because their surface is easy to clean. From Stainless Steel refrigerators to dishwashers and ovens, Stainless Steel remains a popular choice.
Kitchen Pot Lights and Unique Lighting Fixtures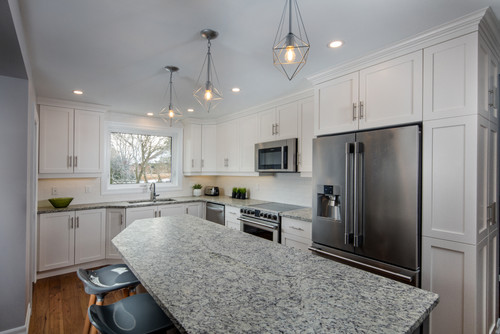 Photo by Canadian Home & Renovation Team Inc. - Search kitchen pictures
These remain a popular feature throughout the household but are particularly useful for a Chef's Kitchen renovation. Pot lights can be placed right above areas that need the lighting, like the countertops and above a kitchen island. Many of our kitchen renovations also involve unique lighting fixtures above islands that direct light onto the prep surfaces.
Hardwood Floors
Photo by Canadian Home & Renovation Team Inc. - Search kitchen design ideas
Hardwood Flooring is a popular choice for Chef's Kitchen renovations because they're easily cleaned with a broom or mop, and can be refinished every so often when the wood panels need a bit more shine. It's the look of luxury without the worry of much maintenance or difficult cleaning procedures.
Make Your Kitchen Renovation The Highlight Of Your Home
A Chef's Kitchen will change the way you use your kitchen whether you're cooking for yourself, your immediate family, or for a group of guests. By working with Canadian Home and Renovation Team, we'll plan and renovate a custom Chef's Kitchen to your needs. Our Project Managers and Designers are always excited to hear the client's ideas and to share their knowledge from building chef's kitchens for our past clients. We work hard to ensure all projects are completed with quality craftsmanship and integrity so you can get back to enjoying your home.
For more information about Chef's Kitchens and Kitchen Renovations, be sure to give CHART a call. 
SaveSave